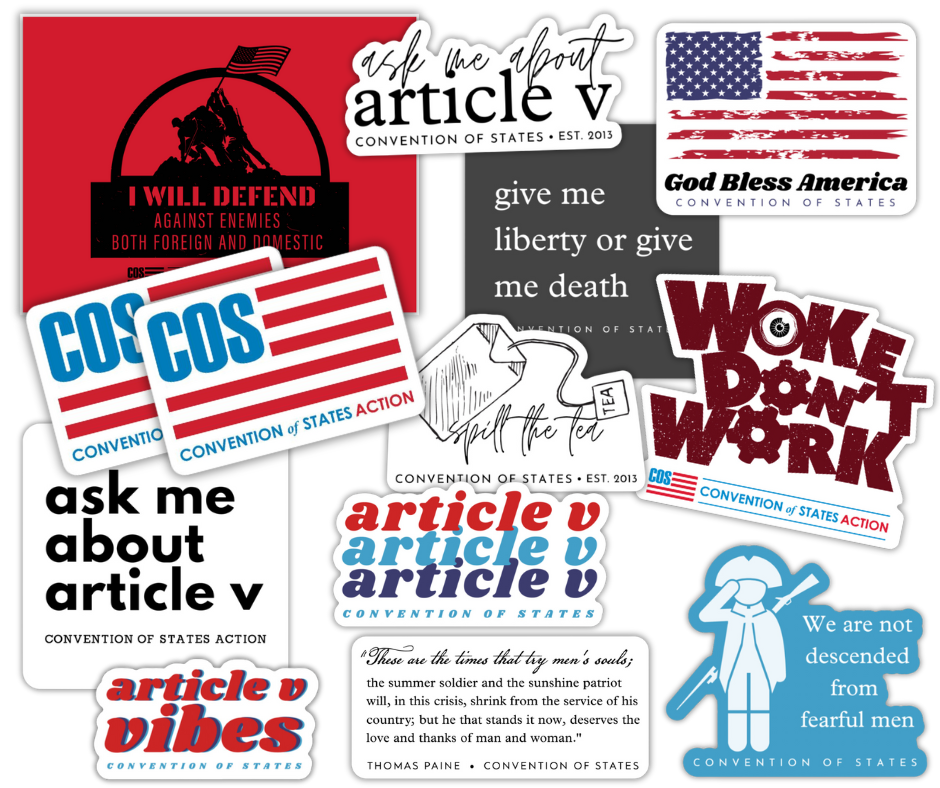 Baker's Dozen Sticker Pack - 13 stickers!
Regular price
$66.00
Sale price
$18.00
Save $48.00
/
---
In stock, ready to ship

Inventory on the way
What's better than one COS sticker? How about 13 of 'em! The Baker's Dozen offers 11 of our best sellers with an extra, exclusive, sticker!
$66 value, just $18!
13 of our high-quality stickers, all made in the USA!
-Ask Me About Article V-cursive (3" x 1.4")
-Ask Me About Article V-print  (3" x 3")
-God Bless America (3" x 2.2")
-COS Logo-2 (3" x 2")
-Give Me Liberty Or Give Me Death (3" x 3")
-Article V Vibes (2" x 1.08")
-Article V x 3 (3" x 1.58")
-Summer Soldier (4" x 1.92")
-We Are Not Descended Of Fearful Men (3" x 2.66")
-Spill The Tea (3" x 2.06")
-Woke Don't Work (3" x 2.48")
-(Exclusive) I Will Defend (4" x 3")
We only have a limited quantity of these so get yours today!
*All Proceeds go to help make an Article V convention a reality!
Items are shipped from our fulfillment center in San Bernardino, CA.
Shipping is 2-10 business days via USPS
Please ensure all shipping information, including address, is correct upon order placement as it is not possible to change this once the item is ready to ship.
We will not grant a credit, refund, or replace a product unless the productwas misprinted, the product was damaged, or the products received were not the items ordered. In order to request a refund, credit, or replacement, a photograph, the order number, and an explanation of the issue must be provided via email to store@cosaction.com. If you're ordering apparel, we would encourage you to reference the sizing charts provided in each product listing before purchasing to ensure it meets your needs. If you have questions or concerns, please reach out to us at store@cosaction.com.
It's important to us that you receive high-quality products that arrive at your doorstep as described. We do everything we can to ensure that's the case. However, as with everything, a defective item may slip through our review process. If you receive an item that is broken or doesn't work as intended, we will provide you with a free replacement. Simply send an image of the damaged item and the order information/order number to store@cosaction.com and make arrangements for a replacement.
Suspect your item has been lost in transit?
Please send your order information to store@cosaction.com and we'll do everything we can to track down the status of your shipment.
How quickly are orders fulfilled?
Virtually all orders are shipped out within24-48 hoursof your purchase!